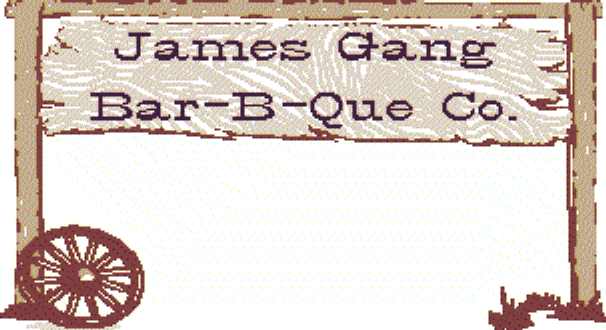 James Gang Bar-B-Que Co. Proudly presents one of the greatest Bar-B-Que sauces in the West.

Everything you need to make your next Bar-B-Que party a success.

The James Gang Bar-B-Que Co. has a been working on it's new line of products. This includes a fanastic meat rub to season your meat before your Bar-B-Que, specially blended smoking chips to smoke your meat to perfection, then by adding this wonderful bar-b-que sauce, you have perfection. Add a great tasting cornbread and your are set.

Jesse James Bar-B-Que Sauce is served at Red's Bar-B-Que in Lincoln City.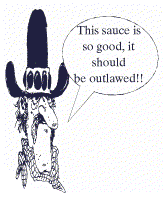 Take it from Black Bart, This sauce is so good it should be outlawed!

Special mail order products for your next Bar-B-Que or for a gift for that special cook in your life.
You to can be a member of the James Gang just by trying these fantastic products.

Order your Canvas Bag filled with everything you need for a perfect Bar-B-Que.
Specially blended smoking Chips,
Quality seasonings blended just right for a fantastic meat rub,
and our famous sauce to top it off.
This also is a wonderful gift for the
hard to buy for man.
$12.95


Add a wonderful Bar-B-Que apron with the canvas bag, the smoking chips, the meat rub, and the Bar-B-Que sauce, for a real treat.
$21.95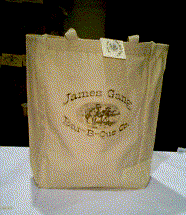 For that special women in your life give her a basket of goodies which includes the fantastic meat rub, the smoking chips, the Bar-B-Que sauce and a cute and cuddly Teddy Bear.
$15.95

For year round enjoyment try out some of our recipes when you get your Bar-B-Que sauce.